Post by sarah jane smith on Jun 19, 2020 18:18:19 GMT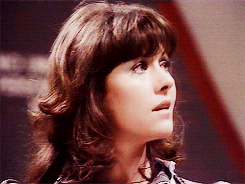 Sarah Jane Smith,
✧ THE BASICS,
ALIASES.
Victoria Beckham
AGE.
25, give or take.
SPECIES.
Human.
DOB.
May 19th 1851
SEXUALITY.
Bi
TIME OF ORIGIN.
Time tic, 1951 onwards, circa Gregorian Calendar Earth
PLACE/PLANET OF ORIGIN.
Foxgrove/Hartfordshire/Earth
OCCUPATION.
Investigative Journalist
APPEARANCE.
Height, 5'4". Weight, 106 lbs. Hair-color, dark brown. Eye-color, dark brown hazeled with green. She has a rather bold sense of fashion for the time and place.
FACE CLAIM.
Elisabeth Sladen
✧ THE DEPTH,
PERSONALITY.
Sarah Jane is a fire cracker who likes to make her opinion known. She's chosen a job that is all about letting her opinions be known, and she has plenty of them. Growing up in the cusp of women's liberation, she carves her own way wherever she goes. Her opinions about equality cross all barriers of gender, race, and cast. She's quick to complain, but she's just as quick to put her well being on the line to create change for the best. A voracious consumer of information, she often has unexpected knowledge on a variety of Earth subjects. She adores that the Doctor knows so many things, him being something like a talking encyclopedia and having facts on everything. Except for the times he didn't have a clue.]Her dreams are dark with the horrors she has seen, but she'll never complains about that. It's a price she's willing to pay to be able to make the changes in the Universe that are so important to her. Her not-guilty pleasure is shopping. Especially for boots. She loves a good pair of boots that she can run fast in. Sarah Jane is quick to make jokes, but generally they're not very funny. Still, she's always seeking a good opportunity for a pun. She's the sort of woman who complains about the rain, but will look death in the face with a steely gaze and a poor but enthusiastic quip.
BIOGRAPHY.
Mucking about with time does strange things to a person's life. Where most slog through it moving one second per second, Sarah Jane's tended to loop around itself, tugging her this way and that. Such is the nature of time. When she was orphaned, she was there both as a 10 month old and as a woman in her 60's. At just 5, now being raised by her forward-thinking and pragmatic Aunt Lavinia, tendrils of her future endeavors would come to wrap around her once again. An Alien from the Jeggorabax Cluster (who had become known on Earth as the Pied Piper) reached back into Sarah Jane's past to attack her there, finding the grown woman far too formidable a foe. The lasting effects of this early jaunt into mixing about with Aliens gave her a lasting phobia of clowns, but nothing more dire than that. Again when she was 15, her future would be back to haunt and hunt her, a nasty beast known as the Trickster would chase her back in time to try to kill her. A friend of hers died instead, but she wouldn't understand the 'why' of it until decades later. In those strange days she even met a future friend who was also a teen, but someday be four and a half decades away from her in age. As if Sarah Jane's time line wasn't already complicated enough.
Did she know about Aliens then? No, but even in her teens she knew that sometimes, strange things happened. Was that what the Doctor saw in her that first day they met? Was that why he had templed his fingers under his chin as he had first taken measure of her? Or was he remembering having seen her before, traveling with one of his later selves while he was still so young? Those times they'd been together and together again in Rathillion's tomb of Gallefrey's Death Zone? That day was of course both before and behind for the Doctor, but for Sarah Jane it lay a decade ahead of of her. Therefore when Sarah first met the Time Lord, she had no faith in him and was near certain he was the enemy of humankind.
Which brings us to here. Now. Now that the Time Lord had proven himself worthy of her faith. She was Traveling with her best friend. Accepting 10 impossible things before breakfast. Dashing about in the TARDIS and seeing . . . .well, everything. Dinosaurs to people made of rocks. Houseplants the size of castles. Daleks and Cybermen, ballgowns and beaches.
OTHER/MEDICAL INFORMATION.
She hates heights, runs quickly, and fights like an angry kitten though she imagines herself to be much more formidable. Her driving easily qualifies for 'dangerous', but I wouldn't bother mentioning your concerns to her because they'd get poor reception from her. She doesn't have weak ankles per-say, but she sometimes overestimates them much like she does her fighting skills and is prone to fall. To fall for the cute guy. To fall down the rabbit hole. To fall for the Doctor's next lie.
SAMPLE.
She reached out into the darkness. There must be a source of light somewhere because if she squinted she could just barely see the cavern around her. Sarah Jane had one hand on the craggy rock wall beside her, and the other hand searching the space before her to protect her nose from getting a bump. In the darkness her hearing seemed to expand and she was aware of the drip of water, the scrape of her espadrilles on stone, and the raggedness of her own breathing. She was moving much more quickly than was prudent in these conditions, but the Doctor was waiting for her. If they were going to get the denizens of this planet out of the pickle they found themselves in her friend was going to need his sonic screwdriver, which was this very moment in her dress pocket. Sarah Jane had no patience for dresses without pockets. She was a busy woman with important things to do, and important things to haul about.
✧ THE PLAYER,
OOC NAME.
(Cal)Mity
AGE.
51
PREFERRED PRONOUNS.
She/her
TIMEZONE.
Pacific
METHOD OF CONTACT.
Please contact me by letter/message here on Fish n Chips.